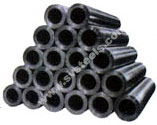 SV Trade is a leading supplier and export of Carbon & Stainless Steel Seamless Tubes & Pipes. The tubes are supplied according to appropriate standards as well as customer specifications in a large variety of steel grade and dimensions. Specific requirements on execution, tolerances, lengths, mechanical and corrosion properties are offered on request.
Products Range:
» Heat Exchanger Straight & U-Tubes.
» Instrumentation Tubes.
» Pipes.
Products
Size / Range
Thickness
Specification
Heat Exchanger Tubes
10.00 MM to 50.80 MM OD
1.00 MM to 4.00 MM
ASTM A-213, A-268, A-269, A-270, A-789 DIN-17456 & 17458 (Class-1) U-Tubes as per Customer's Drawing
Instrumentation Tubes
6.00 MM to 25.40 MM OD
0.50 MM to 6.00 MM
ASTM A-213, A-269, DIN-17456 & 17458 (Class-1)
Pipes
1/8" to 1" NB Ab. 1" to 4" NB Ab. 4" to 8" NB
Sch. 5,10,40,80(S) Sch. 5,10,40(S) Sch. 5,10,40(S)
ASTM A-312, A-790
Grades
TP-304/L/LN/H, TP-316/L/LN/H/Ti,
TP-317L,
TP-321/H, TP-347/H
TP-405, TP-410, TP430
UNS 31500, 31803, 32205

Salient Features:
» Wide supplying range.
» Competence to produce tubes with precision tolerances.
» Capability to produce Bright Annealed Heat Exchanger Tubes upto a developed lenght of 30 Meters.
» All testing facilities in-house to meet International Standards.

Application:
The products supplying wide range of application in Oil and Gas Exploration, Refineries & Petrochemicals, Thermal and Nuclear Power Plants, Chemical Industries, Fertilizer Plant, Aero-Space, Pharmaceutical, Food and Dairy application etc.