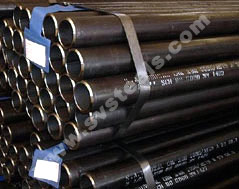 SV Trade has diversified into supplying & Exporting of Carbon Steel High Frequency Welded (HFW) / Electric Resistance Welded (ERW) Pipes.
HFW pipes are made from hot rolled flat steel strip, formed into tubular shape and the longitudinal seam is welded by the application of heating the edges through High Frequency Induction coil and by squeezing the edges. The weld joint is achieved without addition of any filler metal.
High Frequency Welded (HFW) Pipes / Electric Resistnce Welded (ERW) Pipes
Products
Size Range
Thickness
Specification
Specification
1/2" NB to 16" NB
1.50 MM to 12.70 MM. Depend upon the Size.
ASTM A-53 A-135, A- 500, A-513,
A-523, A- 847,
A-984 API 5L IS-1161,
1239, 1978, 3589, 3601, 4270,
BS - 1387, BS-1339 & DIN.

Salient Features:
» Capability to manufacture pipes upto Grade API X-80 and equivalent.
» Online Seam Annealing.
» Online Ultrasonic Testing of the weld line and whole body of the pipe.
» All testing facilities in-house to meet International Standards.

Application:
» Oil and Gas Pipeline
» Structural Pipe
» Plumbing
» Heating
» Water Supply Systems
» General purpose applications